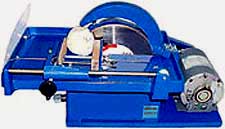 MODEL TS-B-10 TRIM/SLAB SAW $1495.00
Our Price $1300.00


MODEL 10TS-B TRIM/SLAB SAW comes with
vise, splashguard and
1⁄3 HP 110V 60 Hz motor. 600-10-1219
Shp Wt. 68 lbs
EXPORT MODEL 10TS-BX same as above except with 220V 50 Hz motor. 600-10-1219X
Shp. Wt. 68 lbs.
1625.00


You'll get years of service from this 10² trim/slab saw.
MODEL 10TS-B
First, it has all the features needed to make it a versatile trim and slab saw. Easy to use as a trim saw because the vise rotates off to one side to free the table for trimming. With the vise in place, you can slab rocks up to 31⁄2" in diameter. Table measures 12" W x 17" L. Overall size approx. 26" L x 15" W.
Second, it's built solid and rugged with cast aluminum construction with a durable, impact-resistant finish. Arbor shaft is 5⁄8" stainless steel with lubricated, factory sealed ball bearings, and an extra neoprene oil seal on the tank side.
This saw should be used with oil as a coolant. Takes 8 oz. coolant for initial load.
See page 46 for coolant. We recommend Roc-Oil. Vise jaws are steel plate with hardwood facings. Designed for a time-tested, economical gravity feed system, the vise has 11⁄2" lateral movement for cross-feeding and adjustable stop guide for constant thickness cuts.
NOTE: This saw does not come with a blade.