Model TR Series Slab Saws
Built to handle large and heavy pieces of rock, these saws are also widely used in industry for other applications - cutting concrete and asphalt specimens for testing in construction projects, slicing core samples in the oil industry, geological specimens, etc.

Whatever the job, these rugged slab saws are designed for years of dependable service. They combine many of the features of the saws formally built by Highland Park, Frantom and Beacon Star that are still in service after thirty years and more. By adding up-dated features such as the Powerglide Feed System, coolant recirculating system, double safety switches, superior materials, etc., you get a large slab saw that is easy to use and built to last. While the diameter of the saw blade makes a difference in the size of the saw and its components, the features and construction of the TR-18, TR-24 and TR-36 Slab Saws are much the same.

NOTE: The standard TR Series slab saws are designed for lapidary use. For other industrial or commercial uses, modifications must be made to the saws. Please call us at with your specifications to receive a quote.



Saw Box and Hood



The tank not only serves to contain the coolant lubricant essential to the cutting process, it also forms the foundation or chassis for the saw mechanisms. In the TR Series, the tank is made of welded steel plate rather than sheet metal. Legs are heavy duty angle iron welded to the tank and braced to support the saw and heavy loads. The saw is solid with almost no vibration.

The hood is lighter weight steel plate for easier lifting, with a clear, Plexiglass window for viewing the saw blade in operation. The hood confines the saw while in operation for safety's sake and also confines the coolant which is thrown in a heavy spray from the rotating blade. The TR-36 has hydraulic cylinders to help raise and lower the hood. The two smaller saws have locking elbow braces with safety locking pin. Two Safety Switches on all three saws prevent the motor from running when the hood is up.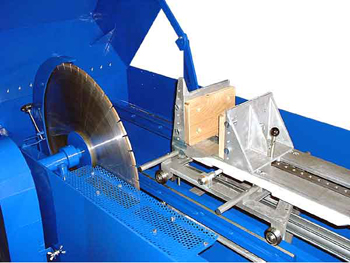 "V" Guide Rail System and Vise



Since the saws are designed for heavy duty slabbing and quartering of large specimens, the vise and rail system are made to handle the job. V-grooved ball bearing guide rollers glide the vise carriage smoothly on precision ground, steel V-rails attached to heavy steel channels. Exacting tolerances insure matching of hardened bearings, rollers and rails. Alignment of the rails to the blade is within approximately .005 maximum across the full blade diameter.

The vise is readily accessible for loading with wood faced jaws that open extra wide. It's made of cast aluminum for the 18 inch and 24 inch saws and welded steel for the 36 inch saw. The vise is easily adjustable and will hold the material securely as it passes through the cutting blade.

"V" guide rail system is standard on all 18 inch to 36 inch saws. Shown below is system for TR-24 saw.





Powerglide Hydraulic Feed System

The Powerglide hydraulic feed system is standard on all three saws and is superior to screw feed systems by providing control of cutting speed and length of cut. Your saw blades will cut better and last longer because the hydraulic system feeds the material without slowing down the blade RPM. Another plus is the ability to stop and start the movement of the vise, allowing you to cut a "starting nitch" in any surface. This kind of control helps prevent blade damage and "tweaking" of the rock from the vise.

Mult-Stage Filter and Recirculation System for Slab Saws

We've improved and enlarged the coolant recirculating systems for our saws and have made them available in kits for use on most other large slab saws as well. The system can move large volumes of clean oil over the cutting surface of the saw blade to keep it cool and lubricated. The holding tanks are heavy duty plastic with multiple settling chambers to filter out particles from the coolant. The tank and submersible pump are easily cleaned.

Specifications for systems for TR Series saws approximate those given below for separate kits available for other large slab saws.

The kits contain submersible pump, coolant tank, hose and fittings. Systems will fit most saws and are easily installed using common hand tools.

Tanks for 14" - 24" saws hold approximately 15 gallons and measure 17"W x 22"L x 12" H.
Comes with lid.

Tanks for 30" - 36" saws hold approximately 30 gallons and measure 18"W x 24"L x 18" H.
Comes with lid.


Kit Size
Order#
Shipping Weight
Price
For saws 14" - 24"
pump 1/10 HP 100V 60 Hz
600-24-8000
14 lbs
us$235.25
For saws 14" - 24"
pump 1/10 HP 220V 50/60 Hz
600-24-8000X
14 lbs
us$240.25
For saws 30" - 36"
pump 1/10 HP 100V 60 Hz
600-36-8100
28 lbs
us$440.00
For saws 30" - 36"
pump 1/10 HP 220V 50/60 Hz
600-36-8100X
28 lbs
us$445.00
---




Models TR-18 and TR-24 Slab Saws




These 18 inch and 24 inch saws are the best commercial and industrial models on the market.

Each saw is individually constructed with critical attention given all operating systems and details. Design is based upon the time tested features of famous Highland Park, Becon Star and Frantom saws, many of which are still in operation after 30 - 40 years. Contempo combined the best of these saws with modern improvements, especially in the operating systems, making the TR-18 and TR-24 saws the best available for heavy duty industrial use, or for the rockhound and lapidary wanting to cut large pieces of material.


Standard Features for Both Models


Powerglide Hydraulic Feed System pushes rock to blade for steady cutting. Both saws must be used with oil. We recommend Roc-Oil.

V-Guide Rail System with heavy cast aluminum vise features quick release pin and positive screw tightening.

Multi-Stage Filter and Recirculation System. See above for complete description of this 15 gallon capacity tank system that makes easy work of the process.

Arbor Shaft is 1 inch Diameter in a one piece cast aluminum arbor housing with sealed ball bearings.

Heavy Duty Tank of 3/16" Steel Plate. Tank has sloped bottom for proper drainage of coolant. Heavy steel legs on casters allow moving of the saw. Leveling screws on each leg. Steel hood has large Plexiglass top window for visibility of saw in operation.

BLADE NOT INCLUDED IN SAW PRICE. Choice of Blade depends on your application.



Model TR-18 Saw

Tank Size: 43.75" L x 26.75" W x 14.75 Deep.
Overall Height: 43"
Cross Feed: 6.5"
Vice Opening: 8"
Depth of Cut: 6 1/4" with 5" flange.
Motor: 1 HP 110V/220V 60 Hz.
A 220V 50Hz is available.
Shipping weight: 640 lbs. Must be crated for shipment.
SPECIAL ORDER: Allow 4 - 6 weeks for shipment.

600-18-8000 ............. 110V 60Hz .List Price $7325.00 $7200.00 plus $380 crating fee
600-18-8000X ........... 220V 50Hz List Price $7650.00 $7500.00 plus $380 crating fee
600-18-C ................. Crating Fee $480.00






Model TR-24 Saw



Tank Size: 60" L x 30.5" W x 17.75" Deep
Overall Height: 48"
Cross Feed: 8"
Vise Opening: 18"
Depth of Cut: 9" with 6" flange
Motor: 1 1/2 HP 110/220V 60Hz
A 220 V 50 Hz is available.
Shipping Weight: 890 lbs. Must be crated for shipment.
SPECIAL ORDER: Allow 4 - 6 weeks for shipment.

600-24-9000 ..............110V 60Hz List Price $9100.00 8510
600-24-9000X .............220V 50Hz List Price $8900.00
600-24-C ....................Crating Fee . $430.00





---





Model TR-36 Slab Saw




This 36 inch professional slab saw is a giant in size and performance.

For all it's size, the Model TR-36 saw is easy to operate and provides professional cutters of gem material, glass and core samples with reliable performance cut after cut. The true workhorse and "secret" of many successful cuts is the Power Glide Hydraulic feed system. The basic design and simplicity of function insures fast, clean cutting of materials. You are able to set pressure and feed at a constant positive pressure. The Power Glide even has a "power return" feature which returns the carriage after a slice has been cut.

Arbor shaft is 1 inch. Blade is constantly cooled and cleaned by the recirculating system. (BLADE NOT INCLUDED.) Coolant is directed to both sides of the blade throughout the cutting operation. Recirculation tank holds 30 gallons.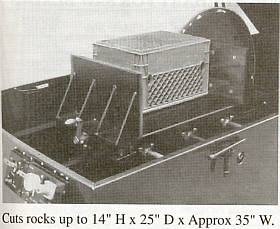 Vise is operated by a 1 inch Acme thread screw. It has a 25" opening with a 14" depth of cut. 11 1/2" cross feed for a maximum of 14"H x 25"D x approx. 35"W rock size. Jaw face is 15" wide. V-Guide rails have 4" U Channel supports.





The tank is made of 3/16" steel plate and measures 96" long x 40" wide by 27" deep. The hood has four heavy duty, gas assist springs for lifting. Safety shut off switch stops saw when the hood is raised.

Comes with 3 HP continuous duty motor. Specify 220V 60Hz or 240V 50Hz. (5 HP 3 phase motors also available in either frequency. Call for quotation.)

BLADE NOT INCLUDED IN SAW PRICE. Choice of blades depends on your application.



The model TR-36 Saw is a special order. Allow 6 - 8 weeks plus delivery time. Saw MUST be crated. Shipping weight is 2000 lbs. (Crate size approx. 6' H x 5' W x 10' L.)

605-36-1000 .................... 220V 60Hz ...................us$17,000.00 16700
605-36-1000X ...................240V 50Hz ...................us$17,500.00
605-36-C ..........................Crating Fee ..................us$ 676.00




---